Designing the workspace of
checkout counters
to provide a comfortable and efficient experience for both customers and cashiers during extended periods of use requires careful consideration of layout, equipment placement, and user-friendly features. Here's how you can achieve this:
For Cashiers:
1. Ergonomic Setup:
   - Provide adjustable counter heights and monitor stands to accommodate different cashier heights and preferences.
   - Position the keyboard, scanner, and monitor at a comfortable viewing and typing angle to reduce strain on wrists and neck.
2. Workspace Organization:
   - Arrange equipment in a logical sequence to minimize unnecessary movements during transactions.
   - Ensure that all essential items, such as bags, receipt paper, and payment terminals, are within easy reach to avoid excessive stretching or bending.
3. Anti-Fatigue Mats: 
   - Place anti-fatigue mats at cashier stations to reduce the impact of standing for extended periods, minimizing leg and foot discomfort.
4. Ergonomic Seating:
   - Provide ergonomic seating options for cashiers to use during slower periods, helping them alternate between standing and sitting to reduce fatigue.
5. Task Lighting:
   - Install adequate task lighting to prevent eye strain and create a well-lit workspace for accurate scanning and typing.
6. Comfortable Flooring:
   - Use flooring materials that provide cushioning and support to reduce foot fatigue and discomfort.
7. User-Friendly Interface:
   - Choose user-friendly POS systems with intuitive interfaces to streamline transaction processes and minimize cashier error.
8. Break and Rest Areas:
   - Designate nearby break areas where cashiers can take short breaks to relax and recharge during their shifts.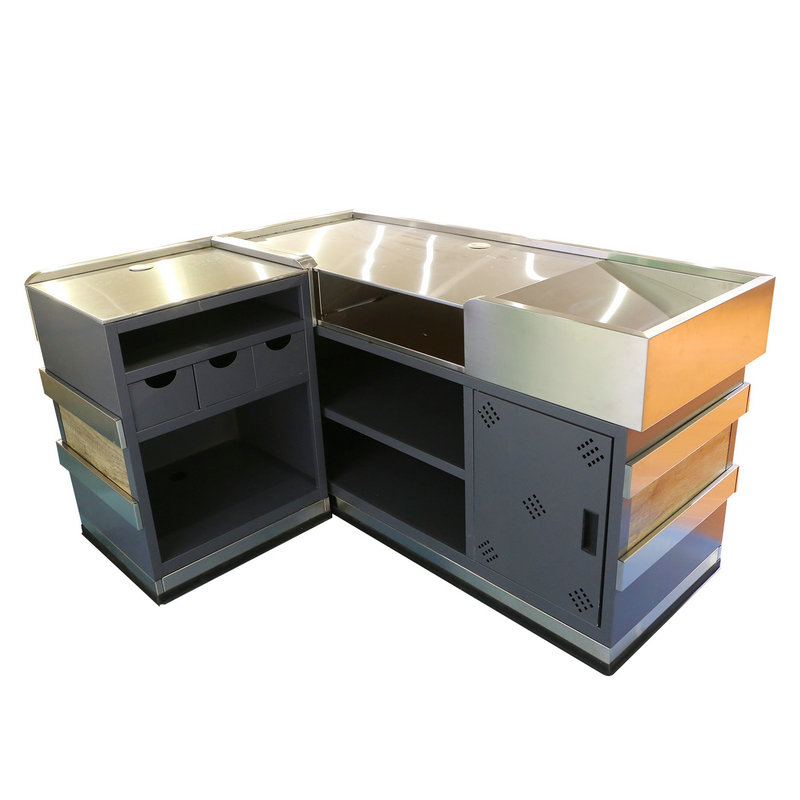 For Customers:
1. Checkout Belt Height:
   - Set the conveyor belt at an optimal height to facilitate easy loading and unloading of items, reducing strain for customers.
2. Bagging Area:
   - Design a spacious bagging area where customers can comfortably organize their purchases without feeling rushed.
3. Transaction Display:
   - Install a customer-facing display that shows the items scanned, prices, and total. This allows customers to verify their purchases and promotes transparency.
4. Space for Personal Items:
   - Designate a small area where customers can place their personal items, such as bags, wallets, or phones, while they manage their purchases.
5. Contactless Payment Support:
   - Integrate contactless payment options, such as NFC terminals or QR codes, to expedite transactions and reduce the need for physical contact.
6. Clear Signage:
   - Display clear signage indicating where customers should place items for scanning, how to use contactless payment options, and any other relevant instructions.
7. Queue Management:
   - Design the checkout area with organized queues that guide customers towards available registers, reducing confusion and wait times.
8. Space for Children:
   - Include designated space for families with young children to keep them engaged and comfortable during the checkout process.
9. Barrier-Free Access:
   - Ensure that the checkout counter area is accessible to individuals with disabilities, with appropriate space for mobility aids and clear paths.