The design of steel and wood shelves ensures the appropriate area and space when the products are displayed on the shelves, so that the products can be placed horizontally to show the different varieties, and vertical placement to show the different specifications and levels of the same variety. Vertically placed, it also provides convenience for the salesperson to put on the shelf, put out the goods, and clean.
1. The steel and wood shelves are easy to install and can be used in conjunction with a variety of hardware and steel-wood pendants.
2. The appearance color of steel and wood shelves can be adjusted at will according to customer preferences and needs, with strong flexibility.
3. The steel-wood shelf raises the root of the support arm, increases the support capacity, increases the width and length of the laminate, and meets the needs of large shopping malls.
4. The steel and wood shelves are relatively light, and many of the improved steel and wood shelves can be disassembled, which is very convenient to transport, and the transportation cost is relatively cheap.
5. The design and shape of steel and wood shelves have the characteristics that metal materials such as age tolerance and classical colors are difficult to have. The structure is solid, and the layer distance can be adjusted arbitrarily, which is noble and generous, and is suitable for convenience stores and franchise stores.
6. The steel and wood shelves have good versatility and are equipped with various product display accessories, which are suitable for the needs of comprehensive supermarkets.
7. The steel and wood shelves are luxurious in appearance and elegant in color, and integrate with the modern store environment, creating a new concept of business.
Steel and wood shelves are often used in convenience stores, supermarkets, pharmacies, mother and baby stores, fruit stores, fresh food stores, jewelry stores, etc. Compared with some steel shelves, steel and wood shelves are more civilized and more grounded, and the cost is relatively low and cheap, so they are more popular and widely used.
GM-GM-20160501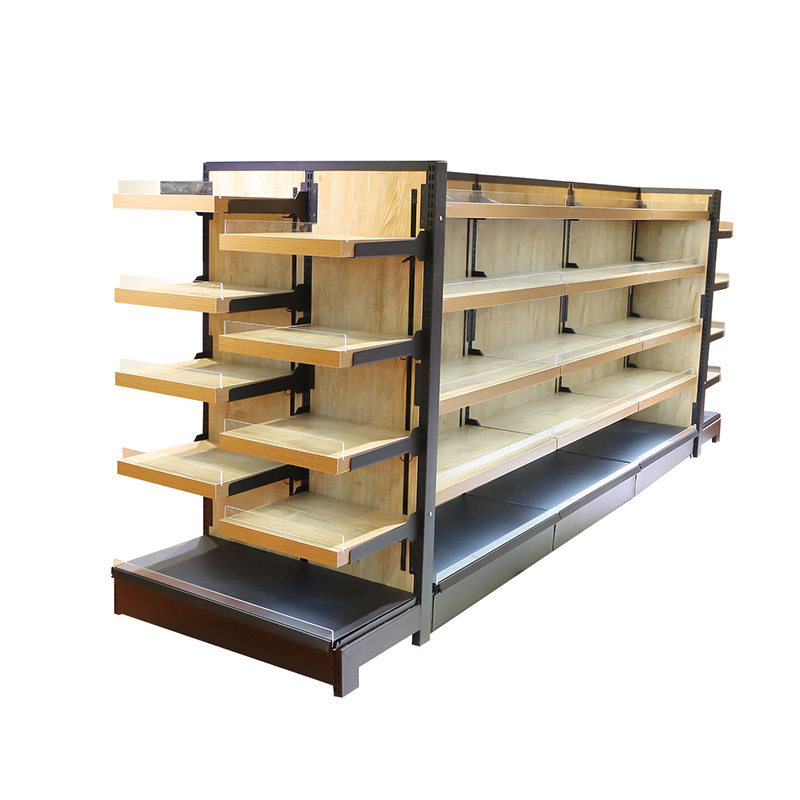 It is strong and stable without deformation, corrosion resistance, long service life, high bearing capacity, convenient transportation, convenient installation, video guidance, ergonomic principles, durable and beautiful, convenient for browsing and shopping.